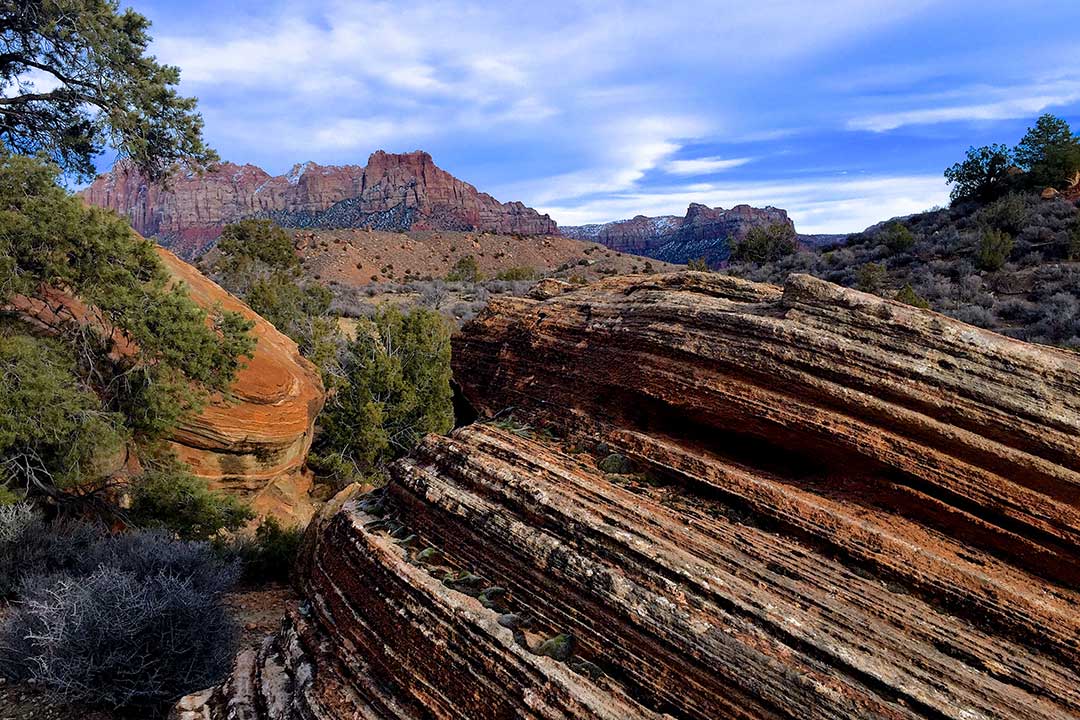 11 Tips to Help You Explore Zion National Park and the Beautiful Treasures Inside.
Hydrate and use refillable water bottles
It can't be stressed enough that to explore Zion National Park, you must prepare for desert weather. Zion National Park is high desert. So yes, that means humidity is very low and temperatures are warm most of the year, which dehydrates the body. It is easy to get dehydrated while hiking and walking in the desert, so pack along extra water, and be sure to take rest and water breaks on long hikes. There are a number of places to refill your water bottles in Zion National Park including the visitors' center and Zion Lodge as well as a new hydration station at the Springdale bus stop in front of The Bumbleberry Inn, installed on Earth Day, April 22, by the Rotary Club of Zion Canyon.
To avoid the crowds, go early or later in the day
The park often runs at capacity and has more people than the shuttle system and trails can comfortably accommodate during peak times. Consider getting up extra early or trekking out midday after the initial rush has flooded in. When you explore Zion National Park, you'll still want to ride the shuttle.
Park in Springdale and ride the shuttle
It's highly recommended that you park near one of the furthest shuttle stops from Zion Canyon's South entrance in Springdale to help minimize traffic congestion coming through Springdale, backing up from the South Entrance. The shuttle stops are now numbered 1 through 9, with 9 being the final stop at Majestic View Lodge. You can almost certainly avoid traffic and assure your seat on a shuttle if you park near any of the 9 bus stops in Springdale, where there's free parking on the sides of State Route 9, in a handful of designated areas, and at your hotel if you're staying overnight. See our map in the center spread for full shuttle schedule and list of stops and both free and paid parking areas.
Spend a day in Springdale
You cannot truly explore Zion National Park without exploring the beautiful town of Springdale. Springdale is unique to our national park system in that it is almost completely surrounded by Zion National Park. So when you're in Springdale, you're right in the middle of Zion Canyon. Check out our list of shops and galleries on page 5 as well as our complete listing of restaurants in the canyon, all listed in order from the park's south entrance through Springdale on the bottom of page 8.
Visit the east side of Zion and spend a day in Kanab
The east side of Zion is generally less crowded, making hikes more accessible and private. These are some of the most enjoyable hikes in the canyon. You can spot wildlife you won't see elsewhere in the canyon. The city of Kanab, situated east of the canyon, is full of unique attractions, like the Little Hollywood Movie Museum and the Best Friends Animal Sanctuary.
Catch an event
Not only does Zion Brew Pub have live music every Saturday, the property also hosts a handful of events throughout the year, as do the Bit and Spur restaurant, Tanner Amphitheater, Bumbleberry Inn, Wildcat Willies, and a handful of various other locations. Check out the Events Calendar on page 11 for both annual and monthly events calendars.
Go on a less crowded hike
The most visited 10 to 12 hikes to explore Zion National Park have a lot of competition; therefore, if you'd rather not feel like you're in the line at a theme park, consider seeking out a less traveled path. Check out our newest feature, "Less traveled hikes in southern Utah" on page 6 and "Less traveled Zion hikes" on page 7.
Try a guided tour
Jeep, helicopter, canyoneering, horseback riding, mountain biking, or ATV guided tours are all available. Many of these tours take you outside Zion National Park boundaries and give you a unique perspective on Zion's canyons and plateaus from surrounding areas of southern Utah. You'll find some of these services listed in the Service Guide on page 4. Also, check out ZionGuide.com for listings and ads.
Pack it in, pack it out
Each month Zion National Park pays many thousands of dollars to haul away waste collected from garbage cans and recycling bins. Your experience and that of everyone who visits Zion Canyon can be improved by never littering and picking up any trash you see along the way. Recycling bins are placed strategically throughout Zion Park, and it is highly encouraged for everyone to use them. "Go before you go" is always a good idea since restroom facilities are limited to select locations. If you do need to take care of your business, please pack it back out!
Come back in the low season when it's cooler
Starting in the fall, the number of visitors to Zion Canyon starts to dwindle, and by December it's significantly less than in the heat of the summer. It is simply a different experience to see Zion in the winter with the snow-capped monoliths. Most hikes are still accessible and are less crowded. You can also drive your car to the Temple of Sinawava parking lot. The shuttles stop running by November and don't start back until March.
Check out Kolob Canyons and Kolob Terrace Road
With gorgeous open spaces and plenty of dirt roads to explore, Kolob Terrace Road is one of Zion's better kept secrets that you won't want to miss. As you travel along the road, you'll notice the air getting cooler as you gain elevation, and you'll find plenty of beautiful views worth stopping at for a quick photo op. The Kolob Terrace Road turnoff is in Virgin, so watch for signs. Additionally, the Kolob Canyons area offers unique views in Zion and is located in the northwest corner of Zion National Park. The Kolob Canyons section of Zion National Park is located at Exit 40 on Interstate 15, 40 miles north of Zion Canyon and 17 miles south of Cedar City.
Enjoy the time you take to explore Zion National Park and southern Utah. We hope you'll come back soon. Thanks for visiting!